Welcome to MaineLights.org


A Snowy Do You Hear What I Hear - MaineLights.org - 2012 from Jeff F on Vimeo.
Newest Video!!! (01/01/2013)

2013 Christmas Light Schedule:
Sunday, December 1st thru Tuesday, December 31th
7:00pm to 10:00pm ANIMATED DISPLAY (earlier/later on Fri-Sat-Sun)
(All times are approximate and weather/traffic permitting of course.)

---
UPDATE: Sunday 12/08/2013


Lights started early tonight and will be on until 10pm. For more up-to-date updates be sure to swing over to our Facebook page.



---
UPDATE: Thursday 12/05/2013


NO LIGHTS TONIGHT(Thursday 12/05)!!! Due to the ground being saturated, the GFCI protection circuits are going nuts. Looks like crap weather tomorrow also so probably the next time the lights will be on is Saturday evening. Sorry folks.



---
UPDATE: Mondday 12/02/2013


Wow... December!?!?!? Really? How time flies!




The weekday hours are now from 7pm to 10pm and the weekend hours are 6:30pm to 11pm. I've been known to start a little early and finish a little late somedays but those are the hours the lights SHOULD be on. Just check here and/or the Facebooks page for updates!



---
UPDATE: Friday 11/29/2013


Ended up going live with the lights yesterday evening.

About the only thing left to do is fix a few(more) strands and put up the banner. So far I've watched the lights for about 3 hours the past two evenings... I like lights!
---
UPDATE: Wednesday 11/27/2013


Alright, here it comes... a little pre-season reminder...




So, even though we expanded and now have a Facebooks page we would like to ask something that's a little backwards from most every other page on there... please, please, please do not share us!




Those that have followed the display over the years know why... and now I'll explain it to the newest people here. Our location stinks! Well, not really but as far as being able to park somewhere and watch the lights it does. We can comfortably have four cars in our driveway watching the lights but the road doesn't lend itself very well to "parking".




Between the ditches, woodchucks flying over the hill doing way more that the suggested 35MPH(yes, that's actually posted on those nice roadside signs!), and the fact that we get weather most of Broome County doesn't... sometimes it's almost as much work trying to stop to watch the lights as it is to put them all up!




Over the years we have seen people do the dumbest things in order to watch the lights. Parking in the middle of the road with lights off ranks right up there! Please us common sense! If the driveway is full, the uphill side of the road across from the house seems like the best place to get vehicles close to being off the road. The ditch is there, but there is actually a shoulder you can use.




Weekday nights seem to be the slowest while weekends seem to pick up. And speaking of picking up... the few days before Christmas are usually insane! We understand why but we also don't? After Christmas it dies right off which becomes the perfect time for getting cozy with the lights(some cars have gotten too cozy... just remember you are on camera when you are in the driveway!).




So, there you have it. Don't share us! Keep this whole thing a little secret between us... and you. Watch the lights if you can do it safely. Don't do anything that would jeopardize you, your family, our family, or those woodchucks(for they know not that they are woodchucks).




And remember the reason for the season! God Bless!
---
UPDATE: Wednesday 11/27/2013


No thanks to the weather... setup is finally almost done! I just need to place the strobes and fix some non-working strands and December 1st looks like a go!



---
UPDATE: Sunday 11/17/2013


It was an absolutely beautiful day out there yesterday... the weather couldn't have been more perfect! Almost all the yard decorations have been placed and some have even been wired.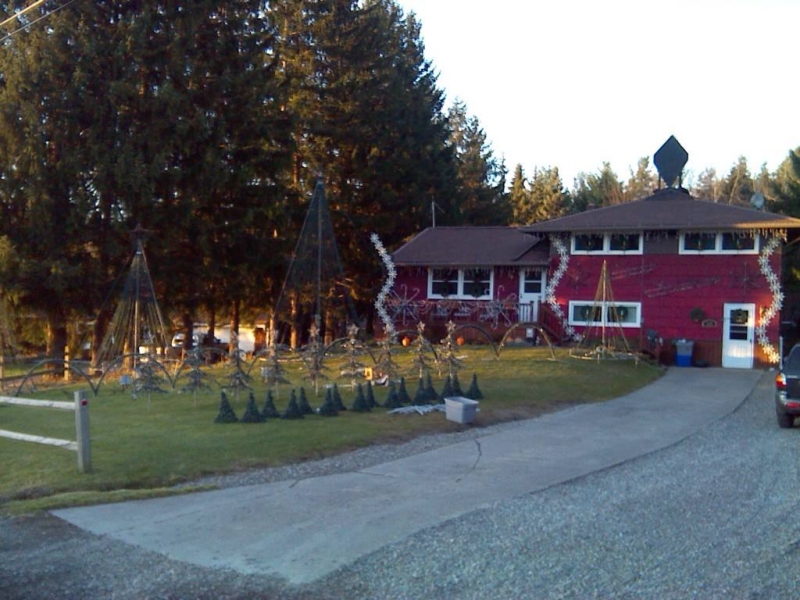 Will work on the wiring a few evenings this week and then next weekend the mega-arch will go up and get wired. Still lots of burned out lights and non-working strands to be fixed but we're getting there...
---
UPDATE: Tuesday 11/05/2013


Almost all the decorations are installed and wired on the front of the house! A couple more little things there then next up will be getting all the lights for the mega-tree tested. Hopefully the tree will go up this weekend if all goes as planned.



---
UPDATE: Saturday 10/26/2013


Roof lights and the Bethlehem Star are up. Having a mental block on testing all the trees though.
---
UPDATE: Monday 10/21/2013


Sophie and I have been busy testing lights over the past week or so. For more updates feel free to swing over to our Facebook page.



---
UPDATE: Sunday 01/06/2013


90% of the display is now packed up and put away and hopefully with the warmer weather coming this week the rest can be done by the end of the week.



---
UPDATE: Tuesday 01/01/2013


Happy New Year!




Just wanted to thank everyone who donated to CHOW this year... your generosity was spectacular! One small load of donations made it's way to the middle school with my son and the rest was dropped off down in the Town of Maine. There is one more load that will be dropped off after the wife buys more food with the monetary donations.




And due to my laziness... the lights will be on a couple more nights. I went out this morning and started digging them out and I just don't have it in me to take them down yet. Guess I'm getting old.

The new plan is to work on taking them down Friday after work so Thursday night will(probably) be the last night to see them.
---
UPDATE: Sunday 12/30/2012


Just uploaded some pictures of all that snow HERE. Man there's a lot of snow!




If you do brave the snow to watch the lights tonight or tomorrow(which is the last night), PLEASE be careful on the road and don't block traffic. Thanks.



---
UPDATE: Thursday 12/27/2012


So even though we were in the middle of a good sized snow storm yesterday the lights were on for over an hour and I was recording them.

Click 2012 Snowy Videos to see them. We think they are the best videos we've ever posted. Have a see for yourself.
Finally, the lights are going off tonight at 9pm due to the roads being slippery. They'll be on again tomorrow.
---
UPDATE: Saturday 12/25/2011


Almost forgot, just like the past four years, the lights will NOT be on tonight, Christmas Night! Please do not plan to come up to watch them. Instead take that time to enjoy your friends and family and give thanks for everything in your life... big and small. God Bless and Merry Christmas!




And for those interested, HERE are a bunch of pictures I took this morning with that nice layer of snow that fell.




Finally, the 2012 Videos have been posted.



---
UPDATE: Monday 12/24/2012@4:13pm


In light of previous years being crazy on Christmas Eve we are only playing one song and the "caution" announcement and then that same song and the announcement again(rinse and repeat). We may adjust this depending on traffic but more than likely this will go on the whole night.




Please pass the word to not PARK in the street with your lights off blocking traffic! This is a sure way to have the lights "take a break" for the rest of the night. Thanks!



---
UPDATE: Saturday 12/22/2012@5:43pm


The lights are already on! And should be on until 10:30pm tonight too!



---
UPDATE: Thursday 12/20/2012@5:43pm


I'm calling it... no lights tonight. The wind is already smacking the lights around and it's only going to get worse. We'll try again tomorrow...



---
UPDATE: Thursday 12/20/2012@4:37pm


So let me get this straight... we *finally* fix our moisture problem with lights turning off and now the wind is supposed to kick up to 20-25MPH this evening and up to 50MPH gusts up on the hill here later? Seriously? I mean come on!




We're going to play this one by ear tonight... if the lights start whipping around smashing into each other then we're going to have to lower the two largest trees which basically ends the show. And oh yeah, no-can-do on blow ups tonight either due to that wind!



---
UPDATE: Monday 12/17/2012@9:26pm


Seems like moisture problem is now behind us. I ended up switching the show to a regular show(as in "crazy lights") about an hour ago and everything is still running fine. I really hope we can now run the show in the rain/wet snow because that's what the forecast looks like for the next week. We'll keep our fingers crossed.



---
UPDATE: Monday 12/17/2012@7:05pm


Well, Sophie and I worked on isolating some of the light trees from the ground(yep, the actual ground) in order to help with the GFCI trips we have when it rains heavily. So far the show has been running for over 30 minutes without a trip. We are only playing seven songs(seven songs that aren't too crazy) and so far so good. I'll update the site if we have to turn everything off.



---
UPDATE: Sunday 12/16/2012@5:50pm


No lights tonight due to the rain and wind. Tried running a few songs before and the GFCI outlets are tripping due to the soaking rain we had today here. Not sure why but I wouldn't doubt the weather forecasters get coal for Christmas this year...



---
UPDATE: Saturday 12/15/2012@5:12pm


We'll be starting the lights around 6:30pm and they will be on until at least 10:30pm again tonight.



---
UPDATE: Friday 12/14/2012@4:05pm


The lights will be on until at least 10:30pm tonight.



---
We are again accepting non-perishable food donations for CHOW in 2012. And again, 100% of all donations will go to CHOW for local people. There will be a few announcements throughout the night and the location to drop of your donation will be all lit up.
In addition to accepting food donations at the display this year, we are also accepting PayPal donations. Again, 100% of all donations go to CHOW. In past years the kiddos have bought food for CHOW at Wegmans with the monetary donations that were generously given(even though we have never asked for money!). It has worked out great and we again thank you for all the support! Just click on the donation button below to donate.
---
If you plan to stop by to enjoy the lights we ask that you remember East Maine Road can be a very busy road at times and completely dead at others. The suggested speed limit is 35MPH over the crest of the hill(thanks Judge!

) but people do not seem to follow that suggestion. Feel free to pull into our driveway to enjoy the lights! Two cars can pull in side-by-side and if you go far enough another two can pull in behind you.
PLEASE TAKE NOTE: We can not have people parked in the road... If this happens the lights will have to be turned off. Unfortunately some people travel well over the cautionary speed limit of 35MPH so... DO NOT STOP IN THE ROAD!!! PLEASE PULL INTO OUR DRIVEWAY and if there is not room consider stopping by later. If you have tried a few times and just can't get in, send us an email and we'll make arrangements.

One more note about the road, if you are pulling over to let someone pass, be careful of the ditch... once we get snow up here the ditches will magically disappear underneath the plowed snow. Only problem is they haven't really dissappeared and you'll be needing a tow.
---
The display is located at 1245 East Maine Rd in the Town of Maine(in NY).
We have always enjoyed decorating the house for Christmas and in 2007 we had a display with about 4,000 Christmas lights and 13 inflatable.
2008 was the first year that we had the display synchronized to music broadcast on 94.9 FM radio via a low-powered FM transmitter. There were around 45,000 computer controlled lights with Silver, Gold, and Red being the primary colors. In all, we could control 176 individual channels of lighting. The inspiration for the 2008 display was Richard Holdman of Utah. Our whole family has enjoyed his display for the past three years and our display tries to capture his style of synchronized lighting(and boy does he have style!).
Some items of interest in 2008 were a 21 foot Mega-Tree with 4,800 lights, four 10 foot animated arches with 1,700 dancing lights each, and a 12 foot tree with 4,800 lights.
In 2009, we kept everything from 2008 and added another 10,000 - 15,000 lights and 80 more lighting channels. We also added two snowflake trails on the house, four "jumping" arches in the yard, and doubled the lights on the two smaller 10' trees.
The display in 2010 was very similar to 2009. The 21' mega-tree was upgraded from 4,800 lights to 9,600 lights as well as some other upgrades. The blowups also made a comeback and they were a huge hit.
In 2011 we reduced the amount of lights to ~50,000 and we also reduced the time the display is on. The past year was a bit much for us and instead of taking the year off, we decided to try for a little less "show".
Now in 2012(and 2013) we are back to around 75,000 lights and are hoping to put up some blowups as well(we did!). The display hours have been reduced to 7pm to 9:30pm weekdays and earlier/later on the weekends.
---
Site Last Updated: December 08, 2013



The 2010 Christmas Lights were dedicated to Great Grandma Billie. We love you!